So I know that sine of an angle is the side opposite of the angle in a right triangle divided by the hypotenuse. What i want to know is: if i have an angle in a right triangle how do i find the sides of the triangle so i can find Sine.
I spent my study hall trying to figure it out and this is as far as i got. I'm simply using a random angle of 73° to depict my logic.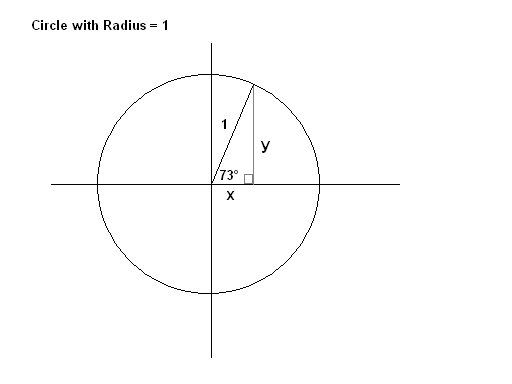 I figured out that if i could just find the slope of the hypotenuse, i would be able to use point-slope formula to find an equation for the hypotenuse. I could then determine where the hypotenuse intersects the circle which would give me the values of X and Y. I would then be able to calculate the Sine of the angle.
I suppose it all boils down to how do i find the slope of the hypotenuse of a right triangle.
The only one i could figure out was that 45° has a slope of 1 and as theta approaches 90° the slope approaches infinite.
I dont know if this is the original method of deriving Sine but it seems like it could work if i could find the slope of any angle. My intention is to find all the Y values on the circle so that i can plot a sine wave. If anyone can lead me in the right direction with my work or if they could tell me a more logical way of finding sine i would appreciate it.