As a PPP*, I'm used to scraping up coins from wherever it is available: Under the seat cushions, bottom of the wash machine, etc, etc. I consider inheritance and gift taxes simply as another source of income.
The distinguished Representative from my state posted a link this morning on facebook to the
Romney vs. you income comparison calculator
.
If one plugs in the average American salary for 2010($41,674), you'll see that it would take the average American a little over 500 years to make what Romney makes in one.
Now, if you jump to your spreadsheet and plug in the numbers for inheritance for the two families, you come up with the following:
$9 billion (
The Duncan descendants
: 4 kids + 4 grandkids = 8)
Amount each Duncan gets with no estate tax: $1.125 billion
Time it takes the average person to make that much: 26,995 years
Amount each Duncan gets with 35% estate tax - $5M deductible: $733 million
Time it takes the average person to make that much: 17,589 years
The average person's perception of the difference between having $1.125 billion vs. $733 million in their Swiss bank account?
Fill in the blank: ________________
Revenue lost by not taxing them: $3.136 billion
$100 million (The Romney boys = 5)
Same thing, only the Romneys are paupers in comparison.
$20 million untaxed vs $14.75 million taxed, each
480 vs 354 years for the average American to make those amounts, respectively.
Lost revenue: $26.25 million.
And if you think I'm jealous of their wealth, think again. I retire in 884 days, and plan on starting my own business. I plan on selling it ten years later for ONE
BILLION
DOLLARS! Even if they tax me at the rate when I was born(91% top marginal), I'll still take home 90 MILLION DOLLARS that day. I can live with that.
Which if I were to try and bring that home at my current income, would take me around 3000 years. Which makes me wonder why all my friends think it's stupid for me to retire early. It's amazing how stupid other poor people are. Bottom feeders.....
And what would I bring home under today's tax rate? $650 million dollars.
hmmm.... For me, once again, as a retiree, I wouldn't be able to tell the difference.
Ok... Well... Then again, maybe I could:
$250,000,000 yacht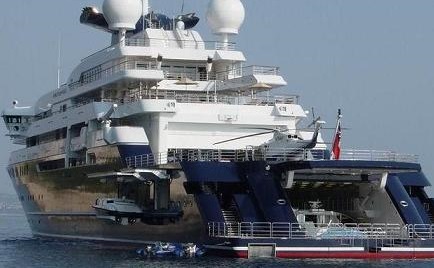 +$20,000,000 annual operating costs
vs.
$11,000,000 yacht
Oh dear, not having two helicopters, 2 submarines, 7 tenders, and a bevy of jet skis on board would really cramp my style. Good thing we've got the tea party watching future Om's wallet for him.
No new taxes! No new Taxes!
*PPP = Perpetually Poor Person
Though I do own 4 boats, 1 nearly brand new car, 1 almost paid off house, and I've been investing in the stock market for 4 years now. So poor I guess, would only be relative to the Romneys and Duncans.