I recommend using the right hand rule during meetings. Let your index finger represent the x axis, your middle finger represent the y axis, and your thumb represent the z axis.
The origin should lie just below and just in front of the right ear.
Your primary goal is to keep your head upright, so the principal axis (the x axis) should lie along the side of your head, parallel with the spine and perpendicular to the jaw, and perpendicular to the ground.
The y axis should be perpendicluar to the x axis, parallel with the jaw.
The z axis should be perpendicular to the x axis, parallel with the collar bone.
This won't keep you from dozing off, but it will provide support along 3 different axes, preventing your face from impacting the conference table. The three axis support is much less likely to result in slippage than the fist method of supporting the forehead (as if you're intently analyzing the source material during the meeting), not to mention that the fist method leaves an annoying red spot on the forehead that makes it obvious that you sleeping.
Classic slippage from "fist on forehead" method: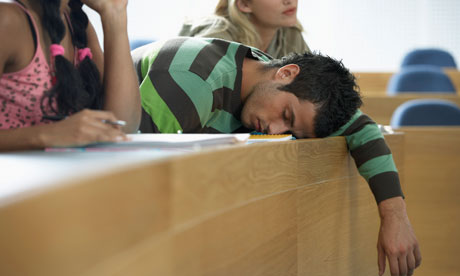 Poor technique (not too mention a violation of the "never text while sleeping" rule):
Not that bad technique (but requires a double or triple chin to work well):
Bad technique (this will eventually cause misalignment of a persons teeth and jaw, resulting in early dentures, not to mention a rather lopsided looking face):
This is not bad technique, at all (but still not as good as full 3 axis support):
I'm sorry, but fake eyes just look disturbing:
Com'n man! At least keep your mouth closed! (This is an open invitation for coworkers to see who can toss the most small paperwads into your mouth.)
Now this is simply outstanding technique!! While the 3 axis right hand rule has an advantage in only requiring one hand, I have to admit the two-handed method can be a work of art when done by a professional. The slight stretch of skin applied by the fingers keeps the eyes open, even while asleep! The only disadvantage is drying of the eyes.
Notice that you can't find a single picture of a person using the 3 axis method - proof that this is an absolutely fail safe method of sleeping during meetings without being detected.
Caveat: There is one possible pitfall to this method. Never, never curl your index finger to point downward. While the chance of this happening is minimal, it can result in the speaker misinterpreting your reaction to what they're saying.
Using the 3-axis method works great! But, unfortunately, I still have some horrible dreams while sleeping during meetings: