That's exactly how lenses work, lugita. There are two distinct areas of confusion on your part. One is that you don't understand how lenses work. That other is that you apparently don't know how reflection, particularly diffuse reflection, works.
I'll start with reflection. There are two basic kinds of reflection, specular and diffuse. Specular reflection: That's how mirrors reflect light. "Angle of incidence = angle of refraction". Diffuse reflection: That's how many objects that occur in nature reflect light. In pure diffuse reflection, the light reflected from the surface is independent of the angle of incidence. The intensity depends on the angle with the outward normal to the surface. The following diagram depicts reflection from a surface that exhibits both specular and diffuse reflection:
When you look at some point on an object, some of the light reflected by that point will enter your eye at the top of the lens, some will enter at the bottom, and so on. If the object is in focus, the light that comes from that point will converge on the same point on your retina, regardless of where it entered your eye. Another diagram: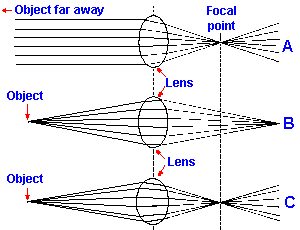 Diagram A shows how light rays emitted by a distance object such as a star enter your eye and are focused on the retina. The rays from that distance source are essentially parallel when they enter your lens. Your eye muscles have to shape the lens so that it focuses all of those parallel rays on a single point. Light from a different star will come from a different angle. That light from that other angle will be focused on a different point on your retina.
Diagram B shows what happens to light from a nearby object when the lens is shaped to focus far-away objects. The light from a nearby point does not converge on a single point on the retina. That nearby point is out of focus when you are looking at an object that is far away.
The eye muscles reshape the lens to make that nearby object come into focus. That's diagram C in the above image. Now light from a nearby point converges on a single point on the retina. Light from a different nearby point will converge on a different point on the retina. Now the distant objects that you were looking at become out of focus.