I think simple cellular automata like rule 110 below: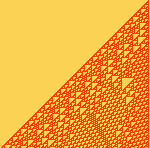 Give us a big hint as to the true source of all the apparent design in the world:
OK, the automata running on the shell is only decorative (the rules are played out by the molecules of pigment in the developing edge of the shell ) but the principle is being visibly played-out by nature. But none of the rules we know about are anything special, in the case above they are inevitable when combinatorial state spaces are explored. Randomness like Brownian motion, acting on materials (molecules) is all it that's required for this so long as it all takes place away from thermal equilibrium. This much alone ought to put pay to the ID theorists.
Why we have a universe with sufficient variety of combinatorial state spaces is another matter. However there are some good theories that posit unlimited scope to the application of the evolutionary principle. After all, why should it only apply at a biological level?
PS Is there a way to post images on these forums? Normal BB code doesn't seem to work