And yet they still produce adequate lift at low sub-sonic speeds, and with the "hump" on the bottom of the wing instead of the top. Compare the angle off attack of the F104 (essentially a jet powered missle with tiny wings) to the M2-F2. The M2-F2 picture is a bit deceiving since the photo is angled a bit.
The M2-F2 and M2-F3 are good examples to "disprove" equal transit theory as the cause of lift, and I just find them interesting, as they are fairly unique.
I rotated the picture 2 degrees right to make the ground appear level, still the upper surface of the m2-f2 is nearly horizontal, but it could be in a "flare" since it's landing, but the wheels are still up, so even though it's fairly low, it's got some gliding time left to deploy the landing gear.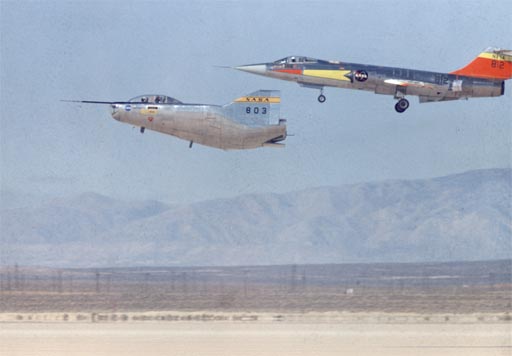 Also the top surface isn't completely flat, it tapers at the tail, but the main point is shape of the lower surface, and the fact that the bottom surface is the "longer path".