1. The problem statement, all variables and given/known data
In the figure, R1 = R2 = 2.0, R3 = 4.0, R4 = 3.0, R5 = 1.0, R6 = R7 = R8 = 8.0, and the ideal batteries have emfs script e1 = 8.0 V and script e2 = 4.0 V.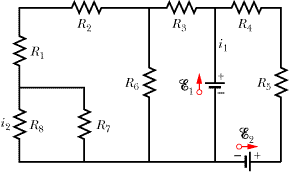 The question asks to find the currents i1 and i2, and the energy rate of transfer in battery 1 and battery 2.
2. Relevant equations
3. The attempt at a solution
First of all, is the "energy rate of transfer" Pemf = iE?
But mostly, I was wondering if there was a good way to do this problem other than using the loop rule and junction rule so much that you could call the rules Scooby snacks and me Scooby Doo.
It's that if I use those rules to find the currents, I'd have four equations and four unknowns, which isn't really that bad except it looks like they'd be pretty long equations. And if there's a more efficient way, and I don't see it, that's because I don't understand something about circuits like this and I would like to learn.
So thanks!