This isn't a specific homework question, it's just something I'm having trouble understanding or visualising. Take this L.E.D. circuit for example, which works according to our textbook: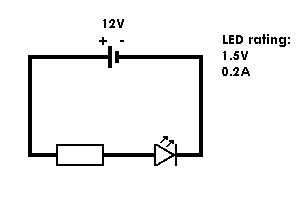 The current flows from the - to the +, so clockwise in this circuit. To me, it looks like the current would leave the battery and 12V would flow straight to the LED light and melt it before it gets a chance to reach the resistor. So based on that, I'd think that this circuit wouldn't work... but I also know that current is equal at all points in a series circuit, so the resistor must have affected the current before it reaches the LED?
If I worked it out right then the resistor has 10.5V and 52.5Ω. I don't understand how it can take 10.5V and lower the current if the LED is before it in the circuit, can someone please explain this? I'm sure I'm just thinking about it the wrong way!
1. The problem statement, all variables and given/known data
2. Relevant equations
3. The attempt at a solution