I don't quite understand your setup for measuring the angles. Could you sketch a diagram? The usual way to do it is with a semi-circular "piece" of the material. That way the beam emerges from the material at an angle of zero and does not bend - so you can measure the angle of refraction A2 outside the material.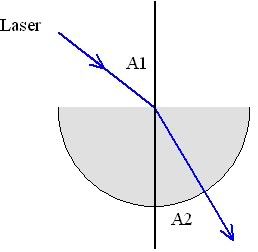 There is a way you could make semi-circular pieces of Jello. Visit the school lab and ask for a circular Petrie dish that is divided in half. Fill half of it with Jello and let it set. Then you just ignore the empty half; the light will not bend noticeably as it goes through the thin plastic on the unused half.
Thinking further about this, I suspect the index of refraction varies with different batches of Jello. More water would very likely reduce the index. More powder would increase it, perhaps even the portions of sugar and gelatin would vary from one box to another. To make a convincing argument that the index varies with color, you would have to mix up Jello batches from a few different boxes, very carefully measuring the weight of the powder and water used. Your school lab should have accurate mass balances you could use.
Another approach would be to use clear gelatin and food colouring, making all the colors from the same batch. This would deal with the possibility that the Jello company puts more sugar in with one color than another. You could also write to Jello and ask about that.