1. The problem statement, all variables and given/known data
Blocks A & B each have mass 5kg, and all contact surfaces are frictionless.
Determine the force F needed to keep the blocks in static equilibrium, and the forces on all contact surfaces.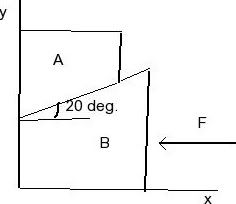 2. Relevant equations
I know I need to find where Fx= 0 and where Fy= 0.
3. The attempt at a solution
Fx = Fcos20
Fy= Fsin20 - 5 kg
Am I even close?