Now, I know that tittle is messy, so I'm going to explain it as clearly I can. One of the proofs to the fact that time is relative is, as I've heard. Putting one clock on the ground, and another a few feets above it. When these clocks measure time, the one above the ground will do it faster, because, as Einstein says, mass slows time and all that stuff.
But, one day I thought of something that bugged me. I made an awful picture to depict it.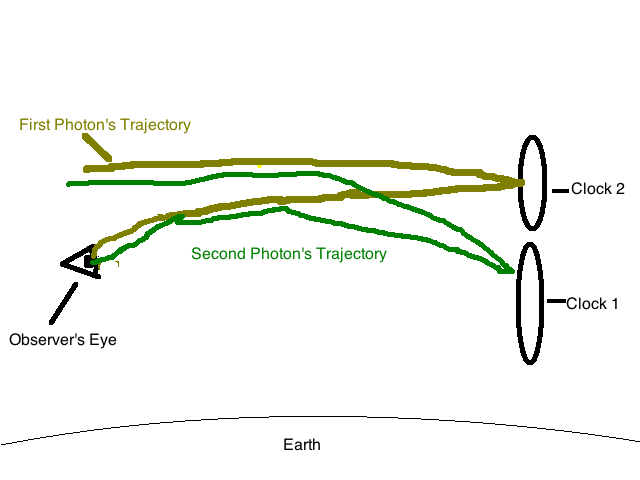 So, as depicted in the picture, a guy observes two clocks, one above the ground more than the other. But what happens to these photons as they get closer to the Earth, is they are pulled with more force towards it. Therefore the one reaching the upper clock will have less gravitational pull applied to him, and will be more unrestrained, with his trajectory shorter than in the other case. The observer gets this photon faster than the second photon, which hit the clock lower to the ground, which was more pulled by the gravitation, which elongated its road, delaying the time it hit the observer's eye, even if both of the photons hit the clock at the same time.
Wouldn't this delay we see between the clocks be simply the effect gravity has on photons, curving their path and making it get to our eyes shortly after the photon from the higher clock hits it.
Oh, and if I'm terribly wrong at something, please don't hate on me. This was just a random thought that popped into my mind once.
I also want to make it clear that this isn't a "theory" of mine that I've come here to discuss. I've already got a warning for discussing my theories on here, even if it was a misunderstanding.