Sorry about that.
But if you agree with him you might perhaps tell me what the primed coordinates are in LET? What do they mean for the traveler in the ether? His wristwatch time etc.?
Lorentz' quote: <<The chief cause of my
failure
was my clinging to the idea that the variable t only can be considered as the true time and that my local time t' must be regarded as no more than an auxiliary mathematical quantity. In Einstein's theory, on the contrary, t' plays the same part as t; if we want to describe phenomena in terms of x'; y'; z'; t' we must work with these variables exactly as we could do with x; y; z; t.>>
The best way to understand time coordinates is to synchronise clocks at the 'origin of measurement'. The primed coordinates then are the red wristwatch time and proper measuring stick space coordinates... in his own red 3D world. Not the green 'ether' 3D world. Red traveler has to wait .289 wristwatch time units to have event A in his Spaceworld. You can never get that in a LET scenario. The primed time coordinates (.289,.289) only make sense if you let go the ether. Considering the green ether through red time .289 doesn't make sense for the 0289 space coordinate, because in that ether world event A is not part of that world.
Only in SR it makes sense if you consider a real 3D world through event A and red .289 wristwatch time. And that tells you that the event A is considered in a green future world for Mr Green, but is already real in the present red world for Mr Red. Block universe, whether you like it or not...
Or do you have another scenario for Mr Red and his time coordinate?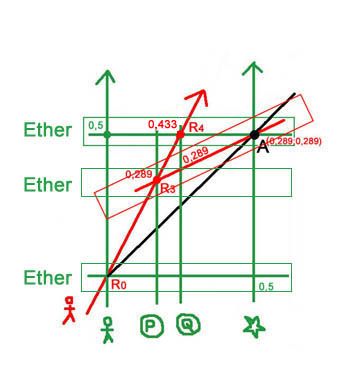 @Kingfire
To link the above to the opening post:
Below I quickly sketched a Loedel diagram for the same LT coordinates. You see that neither the red nor the green worldline is stretched (and definitely not contracted either):
In 4D spacetime the spacing of the time units are equal on all worldlines. Proper time is never dilated.
Time dilation occurs because of the different directions of 3D worlds of simultaneous events in 4D block spacetime.
The time indications on the clocks are events that have fixed locations in 4D block universe, but because of the different directions of worldlines in 4D space, the traveler events of the respective worldlines will have other (pre-existing) 'clock with time indication' event in their respective 3D worlds.
(Note: the 3D worlds with their -obviously space-like) clock events are already 'out there' in 4D block spacetime
before
the 'observer' literally sees the clock events. (A 'lichtcone' scenario
only
tells you wich events have a possible causal relationship with your 'now' event'. But that's not important in this topic)