Yes, that is true, but it is a rather long time scale effect. Chris Colose (in
msg #73
) has given a good account of how time scales matter. The animations linked by skyhunter (in
msg #71
) take this even further to the extremely long scales of the geological carbon cycle.
Here's a bit more detail, looking at a couple of examples that have shown up in the thread.
Climate is so complicated because there are a lot of interacting processes and they work on all kinds of different time scales. Speaking of the "equilibrium" makes a certain amount of good sense; but when you have a perturbation in the system, some things come to equilibrium faster than others.
(1) Very fast: stratospheric response
The temperature of the stratosphere responds very rapidly indeed to any change in radiant energy balance. There's not much circulation or heat capacity to complicate things. Hence, the formal definition of "radiative forcing" is a change in energy balance
after
the stratosphere has come to equilibrium. (See
msg #69
of thread "Physics of Global Warming" for the formal definition and references.)
(2) Fast: water vapour
The humidity of the atmosphere depends largely on temperature. Industry adds a lot of water vapour to the atmosphere, and this doesn't actually have all that much effect; nothing like the effect of carbon dioxide -- even though the carbon dioxide is a weaker greenhouse gas. That is because when water levels are raised much above, or below, the natural equilibrium level, you rapidly get the equilibrium restored, as water evaporates back into the atmosphere or is precipitated out again.
This is the key to why water vapour is not treated as a "forcing" at all. When you add water vapour directly, it rains out again too quickly to have any extended climate effect. On the other hand! If you raise temperatures by some
other
means, then you change the natural equilibrium level of specific humidity... and the ocean adds the water vapour to match; and because this change is persistent, the additional water vapour contributes to the extended increase in temperature. That is -- this is a feedback process, not a forcing.
(3) Slow. The carbon cycle in the biosphere.
Just like there is a natural equilibrium of water vapour, so too there is a natural equilibrium for carbon dioxide, between atmospheric and oceanic carbon levels. The time it takes for atmosphere and ocean to relax back to equilibrium, however, is measured in many centuries. If this process was as fast as the water cycle, then all our industrial CO2 emissions would have only a small effect on atmospheric CO2 levels, because about 99% of what we added to the atmosphere would end up absorbed into the ocean.
What happens in practice is that about half of all the CO2 we have added since the development of industry has ended up in the ocean or other carbon sinks; and about half has ended up in the atmosphere. If we stopped adding CO2 tomorrow, most of the elevated CO2 levels would gradually relax back down into the ocean... but this would take at least a thousand years. There are multiple processes involved in restoring this equilibrium, each with their own characteristic time constant, and that makes the net relaxation time a rather complicated mathematical function.
This is where there is an important temperature impact. The natural equilibrium between ocean and atmosphere is temperature dependent. Now at present the atmosphere is a long way out of balance with the ocean; and so there is a steady net flux of CO2 into the oceans, at about half the rate of the flux of CO2 into the atmosphere from human industry. The temperature effect in the present, therefore, is mainly about the
rate
at which the ocean takes up carbon, and not about the equilibrium level, since it be at least another thousand years before there's any equilibrium.
For climate studies of interest to human society, therefore, carbon dioxide is treated as a forcing; and you estimate atmospheric carbon dioxide levels based on emissions and on models of how carbon is flushed back out into other sinks.
If someone wanted to make a very long scale model of climate for the ice ages of the quaternary period (time span of a million years or so, and time steps of a century or so) then carbon dioxide would show up as a feedback rather than a forcing; much like water vapour shows up as a feedback on scales of interest to us in the present. The difference between "feedback" and "forcing" is not hard and fast, but depends on the scale of interest.
(4) Insanely slow. The geological carbon cycle
This is what skyhunter's link was talking about. On
really
long time scales, from around millions of years to hundreds of millions of years, what counts is the transfer of carbon in and out of geological reserves, which are enormously more than what is seen in oceans or atmosphere. These cycles are too slow even to explain the cycles of ice ages in the quaternary period; but they become critical for explaining changes between "greenhouse" and "icehouse" conditions on very long times scales of hundreds of millions of years, and can involve much larger levels of atmospheric carbon than anything considered for climate in modern times or the foreseeable future.
The most drastic example of this is "Snowball Earth" theory, which by now is pretty much mainstream. There have been episodes in Earth's long history (the most recent of which was about 650 million years ago) in which we had ice ages of such intensity that the entire Earth was frozen, right into the tropics. Such a condition is self-perpetuating, because ice and snow are so reflective, and with most of sunlight being reflected, there is not enough energy coming in to melt the ice.
In this condition, the processes discussed in Skyhunter's link become important. Weathering is much reduced, but outgassing is not. The result is a steady increase in levels of carbon dioxide, up to levels many times greater than what we have at present. Eventually -- and this can take a long long time -- the greenhouse effect becomes so strong that ice can begin to melt around the tropics. In this condition, a runaway feedback process occurs, because as ice melts, the albedo rises, and you start to get more absorbed sunlight. Over a geological eyeblink (as little as a thousand years) ALL the ice melts, and the Earth flips over into a "greenhouse" state, with very high carbon dioxide levels and a temperature rise from the "showball" state of as much as 50 degrees. It would have been the mother of all climate shifts. From there, of course, carbon dixoxide levels begin to fall again... rapidly at first, and then slowly, slowly... as carbon is taken up into the geological reserves once more.
For more details on this fascinating idea, see the website
Snowball Earth
, and in particular the FAQ question
How did the snowball earths end?
. There is now an extensive scientific literature on this. See, for example:
Note that coming out of the snowball earth condition may not occur until CO2 levels are as much as 350 times current levels, as described in the abstract of the above paper. That's an atmosphere of about 12% carbon dioxide. From there, once the ice melted, deposition of carbon into geological reserves would begin, quite rapidly at first. This is the focus of the paper by Hoffman et al.
There's a lot of ongoing work with modeling the geological carbon cycle on long time scales like this, but the broad picture is now fairly solid, of a snowball earth state in the Neoproterozoic, ending with a rapid transition to a hot greenhouse state with enormously elevated atmospheric carbon dioxide levels, followed by a return of carbon into geological reserves as carbonates precipitate out of the warmer ocean and a corresponding decline of temperatures -- although still a hot greenhouse state much warmer than prevailing conditions in the present, and well beyond anything predicted as a result of anthropogenic global warming.
I have in mind a new thread sometime in which I look at a really simple toy model that illustrates some of the basic ideas of feedback and hysteresis as they apply for snowball Earth. In the meantime, here's a diagram of how it works, from the snowball earth site: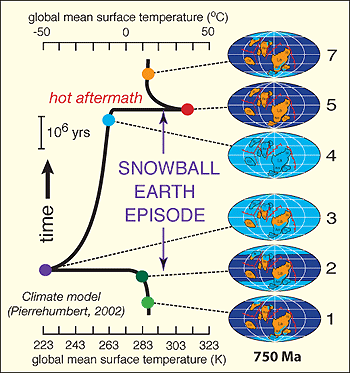 Basically, there is a kind of runaway albedo feedback that occurs as you move into and out of the snowball state, moving the Earth between two different stable equilibrium conditions. This effect is called hysteresis.
Cheers -- sylas