That's exactly what I show. The red clocks do not move in red frame (world)
Sorry, but where do copied this nonsense from? Do you understand yourself what you wrote there?
Please show me on the ether space and time diagram in which green ether space the red time coordinates are valid!
Let me elaborate a bit on my diagram to be sure the message gets across.
(It would have been better if I had sketched a loedel diagram in which the time and space units are equal, but I doubt most forum members are familiar with loedel diagrams...).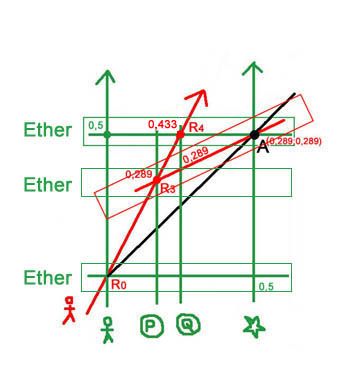 When the green ether observer has 0,5 on his wristwatch, the Red traveler's clock shows 0,433. Red clok runs slow. Red is at planet Q. The distance between the red traveler and event A (light at the star) is O,25.
The LT transfomation (event A's time and space coordinates for red) tells us what red observer will experience: at 0,289 on his wristwatch event A (light at the star) is located (3D space distance) at 0,289 from him.
How can red's scenario work in the ether? It cannot.
Do you perhaps want to replace the content of R4 wit that of content R3? red's wristwatch time indication of event R4? That's impossible: at R4 Red traveler with wristwatch 0,289 is at planet Q and not at planet P.
Red's wristwatch on 0,289 is in the green ether through that event R3, but in that ether Red traveler still can not measure the 3D space distance to A. Event A is not (yet) part of that green ether world!
The LT result only works in SR: Red traveler has his own 3D world 'in which' he measures 0,289 space dimension between the simultaneous events R3 and A.
(You might (but I doubt) get LT to work in a LET context if you question the existence of observer independent events, etc, but then you slide into solipsim or other bizarre philosophical approaches that are not necessary in SR.)