I got some photos of the lunar eclipse Tuesday morning.
I used a Nikon Coolpix 4500, with a Kenko 8x32mm monocular mounted to it. All photos were later resized to 40%.
Here's a shot of the full moon Monday night, a few hours before the start of the eclipse. I was mainly setting up the focus of the monocular + camera, so that I wouldn't have to use the autofocus feature later on.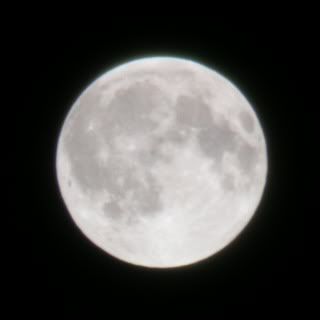 .
The total phase, about 3:40 a.m. Eastern USA time:
.
The partial phase, 3:53 a.m.:
.
Two exposure settings for the partial phase, about 4:00 a.m. The right-hand photo gives me a real, and eerie, sense of the Earth casting its shadow onto the moon.